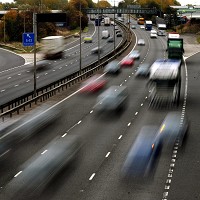 Car insurance rates are accelerating in the wrong direction after the introduction of higher Insurance Premium Tax, research reveals.
Average best buy premiums increased by 10.9% to £696 in the year to 30 November, market researcher Consumer Intelligence claims, meaning it is more expensive for motorists to protect themselves on the road .
Insurance Premium Tax - the tax paid each time an insurance policy is purchased in the UK - increased from 6% to 9.5% in November.
Drivers over the age of 50 were the worst affected, with a typical annual increase of 16.4% sending their typical premium to £279.
Prices jumped 12.8% to £498 for those aged 25 to 49, while prices went up 1.5% to £1,680 for those under 25.
Ian Hughes, chief executive of Consumer Intelligence, says the rise in Insurance Premium Tax is having a massive, immediate impact on pricing across the market, describing the average 10.9% annual increase as "substantial".
His biggest concern is that prices are rising once again for under-25s after years of cuts. He recommends they start looking at ways of limiting rises in the cost of insurance such as black box technology.
Copyright Press Association 2015. Motoring News articles do not reflect the RAC's views unless clearly stated.