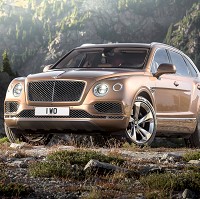 Bentley is preparing to make its first foray into the SUV market, having unveiled details of the Bentayga.
The car is set to make its first public appearance at the Frankfurt Motor Show, which gets underway next week, and will go on sale from early next year.
The British luxury car maker has not yet confirmed a pricing structure for the Bentayga, but prices are expected to start from around the £130,000 mark.
The Crewe-based manufacturer says the car's ability to reach speeds of 187mph will make it the world's fastest SUV.
Powered by a new version of Bentley's turbocharged W12 petrol engine the 2.4 tonne vehicle will be able to accelerate to 62mph in just 4.1 seconds.
Bentley says drivers and passengers will be in for a smooth ride thanks to an electronic ride control system.
And inside the SUV it says they will find the emphasis is on comfort and Bentley's customary high-quality design.
Copyright Press Association 2015