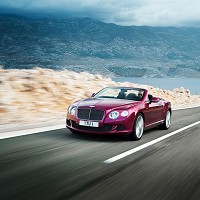 Bentley has released the first pictures of its new Continental GT Speed Convertible, the world's fastest four-seater cabriolet, ahead of its official launch later this month.
The convertible version of the GT Speed can reach a maximum speed of 202mph, only 3mph slower than the hard top GT, and features a twin-turbo W12 engine which can produce up to 616bhp.
It achieves CO2 readings of 347g/km and is 15% more efficient than the first version of the GT Speed.
It weighs 175kg more than the current hard top GT Speed.
The improvements in efficiency have led to an increase of 15% in the vehicle's range.
Both the convertible and the hard top version are fitted with an eight-speed ZF automatic gearbox to help drivers make smooth and quick changes in speed.
The car is expected to cost around £160,000, and drivers are also advised to invest in comprehensive car insurance .
Copyright Press Association 2013