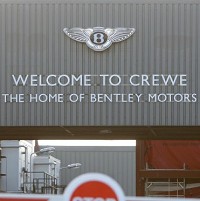 Luxury car-maker Bentley is to create more than 1,000 jobs at its Crewe factory to build its brand new SUV.
Bentley is investing £800 million in its fourth model that is due to be available in 2016 and Prime Minister David Cameron described the plans as excellent news for the economy.
During a visit to the Crewe plant, Mr Cameron said the investment was "another important milestone" in thejourney to economic recovery as the UK car industry is a real sign of strength and outperforming many global rivals.
He said the Government has begun an Automotive Industrial Strategy to help improve figures that show a new car rolls off UK production lines every 20 seconds. He said it was excellent news that Bentley was not only safeguarding jobs, but also opening up around a thousand more opportunities for skilled apprentices.
Bentley Motors Ltd has been owned by the Volkswagen Group since 1998 and VW's board chairman Dr Martin Winterkorn said there is much anticipation around the world about Bentley's new SUV. He says it will be just as "powerful, exclusive and successful" as other Bentleys that are available and he confirmed that VW still sees Britain as a competitive place to build cars.
Copyright Press Association 2013