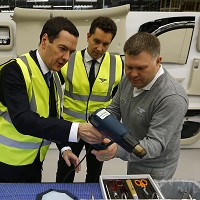 Car maker Bentley has moved closer to bringing an ultra-luxury SUV model to the roads by 2016 after it announced details of a £40 million investment.
The firm is to create 300 jobs when it constructs a new research and development centre in Cheshire, a facility which will house 1,300 engineers.
New posts at the Crewe site will include vacancies in engineering, manufacturing, quality, project management and sales and marketing.
Wolfgang Durheimer, chairman and chief executive of Bentley Motors, said that a "new generation of Bentleys" will be produced by the new R&D facility.
Describing Bentley as an "iconic British brand", Chancellor George Osborne hailed the new jobs and research centre as what was needed to help continue Britain's economic recovery.
Mr Osborne unveiled further incentives for research and development during his Autumn Statement and said that projects such as Bentley's also helped to support other suppliers across the UK.
Copyright Press Association 2014