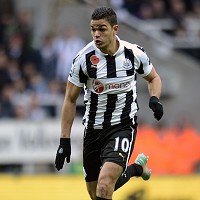 Footballer Hatem Ben Arfa has been disqualified from driving after he admitted two motoring offences.
The 26-year-old, who currently plays for Newcastle United and is a French international, was caught driving at speeds of 110.2mph in a 70mph zone without insurance on his Mercedes vehicle.
He was banned from driving for 49 days and fined £5,100 after pleading guilty at Newcastle Magistrates' Court to driving without insurance and one count of speeding.
Ben Arfa's Mercedes sped past a police car on the A696 Wolsington Bypass dual carriageway in Newcastle on 6 September 2012. After being pulled over he was found to have no insurance.
Driving without insurance and speeding are both serious offences, which often come with heavy punishments. Motorists convicted of such crimes also face higher car insurance premiums in the future.
Just last week, Manchester City striker Carlos Tevez was sentenced to 250 hours of community service and was hit with a six-month driving ban after pleading guilty to driving while disqualified and without insurance.
Copyright Press Association 2013