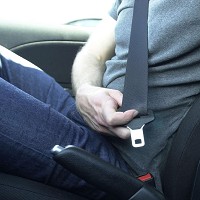 Avon and Somerset police will be enforcing seatbelt legislation as part of a Europe-wide road safety campaign which begins on Monday.
Mobile patrols will be on the lookout for anyone not wearing a seatbelt, one of what police call the 'fatal four' driving offences. The others are speeding, drink and drug driving, and using a mobile phone while driving.
The overriding message of the TISPOL seatbelt campaign will be that seatbelts should be worn in all seats in all vehicles. Officers will use education or enforcement to get this point across, with the aim of reducing the number of people killed or seriously injured.
Chief Insp John Holt of Avon and Somerset's Operations and Roads Policing Unit said: "Most people wouldn't dream of driving even a short distance without belting up, but those who do break the law should know that we will take action against them to help make the roads safer for everyone."
In 2011, a total of 1,567 fixed penalty £60 fines were issued to drivers for seatbelt offences in Avon and Somerset.
The majority of countries across Europe are supporting the TISPOL seatbelt campaign which runs until 16 September.
Copyright Press Association 2012