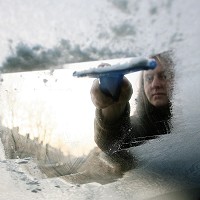 A spate of car thefts has been reported in Belfast in which vehicles were taken while being de-iced by their owners in wintry weather.
There was a flurry of six such thefts, known as "frost-jacking", reported in a 90-minute period.
As the wintry weather descends on the UK, vehicle recovery firm Tracker has urged motorists to take extra care as leaving a car unattended on a frosty morning can be an expensive mistake.
Tracker's police relationships manager Stuart Chapman said: "Our stolen vehicle intelligence shows that thieves look out for cars on frosty mornings, shopping around for the most popular makes and models, as temperatures start to drop."
It is an "opportunistic" act carried out in view of the fact that modern cars incorporate technology that makes it very difficult to take them without the keys, he added.
Mr Chapman likened leaving your car unattended with the engine running to leaving "an open briefcase containing £30,000 cash or more on your driveway".
Meanwhile, with snow falling this week many motorists will be reminded to check they have high-quality car insurance in place to protect their finances should they fall victim to theft this winter.
Copyright Press Association 2013