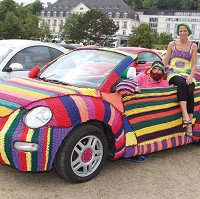 Rare and vintage Beetles will be on show as thousands of enthusiasts gather for a celebration of the much-loved car.
The Sunshine Tour takes place in Travemunde, Germany, and will see over 4,000 Beetle fans attend - with some, and their cars, arriving in fancy dress.
For the past nine years Volkswagen has been an official partner to the festival, which takes place on the weekend of 15-17 August.
The manufacturer will bring a number of special vehicles to the festival, including the Beetle Dune, the concept Cross version and the recently launched Beetle Cabrio Karmann.
There will also be the chance to see the 537bhp four-wheel drive GRC Rallycross Beetle, which has been developed with help from Andretti Autosport for the American GRC race series.
A month after the festival, the car, which can do 0-62 mph in just 2.1 seconds, will make its debut in the championship in Los Angeles.
Copyright Press Association 2014