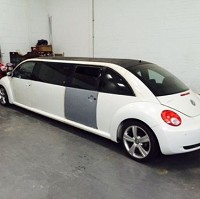 Many Volkswagen Beetle drivers love to customise their cars, but very few have gone to the lengths of one particular owner.
The enthusiast in question has started the process of building a one-off limousine version of the new generation Beetle measuring a monumental 21 feet long, and now it is up for sale.
The Beetle is powered by a standard Beetle 1.9-litre diesel engine and only has 1,758 miles on the clock, but is something of a work in progress.
Despite its length, the Beetle limo still has only four seats so whoever buys it will have to buy extra seating if they want to use it as a multi-seater, as is conventional.
Other work also needs doing but the good news is all the parts the eventual buyer will need to finish the project, other than the extra seating, are included in the sale.
The vendor says with a little work the limo could be the longest Volkswagen Beetle in the world.
Copyright Press Association 2014