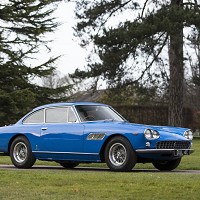 Not many people can say their first car was a Ferrari, but John Lennon could and now music and motoring fans alike will be keen to get their hands on his Azzuro blue 330GT 2+2 CoupŽ when it goes under the hammer in July.
The sports car personally chosen by the Beatle has been added to the Bonhams auction at the Goodwood Festival of Speed in Chichester on Friday, July 12.
Lennon had a ticket to drive as the band's hit Ticket to Ride topped the charts in February 1965.
He had just passed his driving test and reports in the press inspired luxury car dealers to bring their best cars to his Kenwood home in Weybridge, Surrey, hoping to win a famous client.
After inspecting the array of Aston Martins, Jaguars and Maseratis, the star picked the right-hand drive Ferrari, paying £6,500.
That translates to more than £110,000 in modern money, but such was the success of the band that he would easily have been able to afford the price and the cost of car insurance to drive it.
Lennon, who loved fast cars, used the Ferrari for three years, driving more than 20,000 miles.
One of only 500 built by the Italian car-maker, the 330GT 2+2 CoupŽ has had its original DUL 4C plate restored by the DVLA and it is thought the bidding for the car could reach as high as £220,000 at the auction.
The lot includes a file on the car's history and correspondence with the Beatles singer/songwriter.
Senior specialist in the Bonhams Motor Car Department, Sholto Gilbertson, said it was amazing to think that Beatlemania was so big that Lennon didn't even have to leave his home to buy his first car and it was a Ferrari.
Copyright Press Association 2013