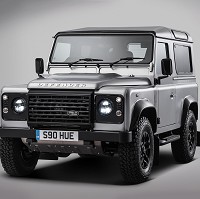 Bear Grylls headed the star-studded production line behind the creation of Land Rover's new landmark 4x4 Defender.
The 41-year-old survival expert supplied his input into the 2,000,000th model, a silver-painted edition.
Born Free star and conservation expert Virginia McKenna also helped on Jaguar Land Rover's (JLR) celebratory machine.
JLR leaders explained the significance of Grylls and McKenna to the process. Ralf Speth, chief executive of JLR, said that for nearly seven decades the Defender and its predecessors have been chosen by explorers, farmers, charity groups and even the Royal family alike.
Dr. Speth added that throughout this time the make had assisted pioneers in reaching the unreachable.
Grylls called it "an honour" when he discovered he would be part of the team building what he called a "very special" vehicle.
This week Bonham's auctioneers are due to unveil the car at the Sussex-based Goodwood Festival of Speed (June 25-28), which opens on Thursday. It will then be auctioned off in London on Wednesday, December 16.
The successful bidder will find a special map etched into the Defender's aluminium body. This shows a map depicting Anglesey's Red Wharf Bay in Wales. This is where the first Land Rover's design was originally drawn into the sand. In addition, a commemorative "2,000,000" badge adorns the back of the machine.
JLR's Solihull factory produced the special Defender as well as baking a celebratory 600kg Defender-shaped cake. So big was this cake - it is a 1:2 replica of the real Defender - that a special forklift truck had to hoist it into position.
Its creator, Brownhills' Lara Clarke used 50kg in butter cream alone, as well as sponge cakes numbering 32.
The creation took the West Midlands-based baker 150 hours in the making before it was mounted upon a big car frame.
The Defender will cease production during the final month of this year, it was announced during October 2013. This follows a continuous production run amounting to 67 years.
Copyright Press Association 2015
https://grrc.goodwood.com/section/festival-of-speed/ (Goodwood Festival of Speed)