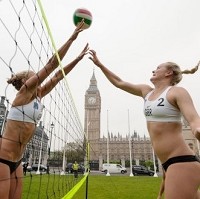 London motorists received a warning with a difference about the importance of avoiding central London roads throughout the Olympics.
Great Britain's female beach volleyball team stopped rush hour traffic whilst playing a game in Parliament Square in their revealing uniforms to show driver how busy the capital's road will become.
Thursday's event launched Transport for London's (TfL) online journey planning tool, Temporary Road Changes.
"Our advice is to avoid driving in central London and around the Olympic Route Network (ORN) and venues or, if journeys are absolutely essential, to plan ahead and allow extra time," said TfL's surface transport chief operating officer Garrett Emmerson.
Despite improvements to the Underground and East London Overground lines there will be considerable traffic congestion throughout the event, with predictions of 1,000 Games-related vehicles on the roads every hour.
The volleyball event is one of TfL's campaigns to increase public awareness about driving conditions and the importance ofjourney planning .
If drivers do not comply with Olympic driving regulations they risk a £130 fine, and vehicles parked illegally will be taken to a car pound.
Copyright Press Association 2012