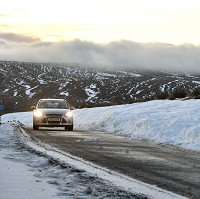 The UK road network will carry more than 12 million cars between Christmas Eve and Boxing Day this year, according to the RAC.
But many drivers will fill their tanks with the cheapest fuel for four years and begin the big Christmas getaway as early as Monday.
Good preparation is the key to make sure Christmas journeys go without a hitch as unsettled and wintry weather is expected in many parts of the country. Motorists are being warned not to drive through flooded roads.
Christmas Eve and Christmas Day will see four million and 4.6 million vehicles on the roads respectively, the RAC predicts.
RAC national operations manager Matt Dallaway said: "December has seen the UK's weather take on a distinctly unsettled and for some of us wintry flavour, and the signs are that this could continue through the week when many of us will be taking to the roads.
"So the message is for drivers to plan for their journeys ahead of time, and make sure their vehicles are properly winter-proof."
Copyright Press Association 2014