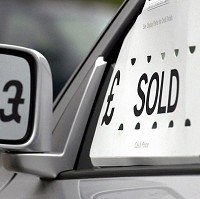 The auction centre staff members at BCA Nottingham are congratulating themselves for the record vehicle sales registered in the third week of March.
Close to 1,700 vehicles were sold for a record total for a single week of over £23 million.
Abreakdown of the week's sales reveals an impressive volume of sales. On Tuesday, 19 March, BCA Nottingham sold close to 200 cars, followed by 340 cars sold on Wednesday, 20 March, and close to 300 on Friday, 22 March.
The star sale day of the week, however, was Thursday, 21 March, when 848 vehicles were sold-the largest number of vehicles BCA Nottingham has ever sold in a single day. Sales that day combined an online sale and a Top Car sale.
"I would like to thank our seller customers for providing such a sparkling selection of vehicles during for this record-breaking week and our buyers for supporting the BCA Nottingham sales programme so strongly," BCA General Manager Robin Wilde said.
"This record week at the Nottingham auction centre underlines the strong demand for good quality used cars and vans that BCA has been reporting for many months now."
Copyright Press Association 2013