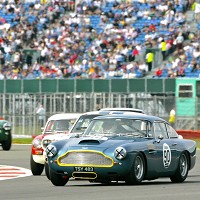 The most iconic British GT and saloon cars ever made will line up on the grid at the Silverstone Classic this summer.
Two evocative new races for models from the 1950s and '60s have been added to the much-anticipated weekend in July, both of which will be staged under the illustrious 'Battle of Britain' banner.
Big names like Aston Martin, Austin, Austin-Healey, Ford Cortina, Ginetta, Hillman, Jaguar, Lotus, MG, Mini, Marcos, Morgan, Morris, Riley, Sunbeam, Triumph, TVR and Wolseley will all compete in the 20-minute showdowns.
Cars must have rolled off the production line between the start of 1947 and the end of 1965 in order to qualify for the special races, introduced to commemorate the 75th anniversary of the 1940 air battle.
Alluring aerial displays by Spitfires and other Second World War aircraft will add to the occasion on both Saturday and Sunday.
There will be a total of 22 races ranging from Pre War Sports Cars from the '20s and '30s to Super Tourers and GT Legends from the '90s at this year's Silverstone Classic, which is celebrating its 25th anniversary.
The all-important dates for your diary are 24-26 July.
Copyright Press Association 2015