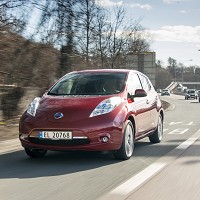 People who purchase the new Nissan Leaf will have the choice of buying the batteries outright or leasing them in conjunction with a lower list price.
The car from the Japanese automaker qualifies for the £5,000 government grant for plug-in electric vehicles, meaning prices will be almost always quoted with that reduction taken into account.
Prices start at £20,990 if buying the entire car outright, with this price falling by £5,000 to £15,990 if a customer chooses to lease the batteries.
People who opt to lease the batteries will have to pay £70 per month for them. This cost applies to mileages of less than 7,500 per year over three years.
The price structure means that the entry-level Visia model will cost £20,990 or £15,990, while the mid-range Acenta will cost £23,490 or £18,490.
Meanwhile, the supremely well-equipped, top of the range Tekna will require a £25,490 or £20,490 commitment.
"We are very proud of the new Nissan Leaf, which underlines our commitment to the future of electric motoring," said
On the road necessities such ascar insurance differ when it comes to electrical vehicles, so if you're going green be sure to do your homework first.
Copyright Press Association 2013