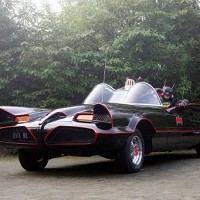 Batman's original Batmobile from the 1960s cult TV series is set to be sold off at an auction house in Arizona, according to reports.
The 19-foot-long jet black, bubble-topped vehicle could sell for millions of dollars when it goes under the hammer at the Barrett-Jackson auction house in Scottsdale on 19 January next year.
The car was used to transport the Caped Crusader around Gotham City as he fought running battles with villains such as The Joker and The Riddler until the show stopped filming in 1968.
In its day, the Batmobile was capable of laying smoke screens to mask an escape route or oil slicks to send enemies into a spin, while also boasting the Batphone with a direct line to the Bat Cave.
Custom car expert George Barris transformed a unique 1955 Lincoln Futura concept car into the world famous crime-fighting machine, but interest buyers could see their car insurance premiums rise if they add the iconic Batmobile to their collection.
Copyright Press Association 2012