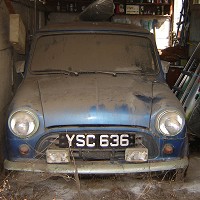 Classic car collectors with a passion for restoring vehicles may be interested to learn that a 1961 Mini is set to be auctioned at Sandown Park next month.
The vehicle, which is unlikely to have currentcar insurance cover as it was taken off the road in the 1980s and kept in a garage ever since, is expected to fetch up to £10,000 when it is auctioned by Barons on September 18.
The car, a 1961 model, was upgraded to a 1125cc by Oselli and is thought to be a rare example of a very early enhanced Mini.
Oselli has specialised in tuning and enhancing original Minis for a number of years.
Other vehicles available at the 'British Heritage' auction include a 1969 Mini that underwent a 'nut and bolt' restoration between 2004 and 2005. The vehicle is fitted with a 1980s BMC bodyshell and has been returned to concours-standard condition.
Since the work was completed the car has not been driven in the rain or bright sunshine, it has been claimed. It is expected to fetch around £15,000 at the auction.
A comprehensively restored 1950 Bentley MkVI, well known to Bentley Drivers Club members, will also be auctioned for around £18,000-£22,000.
Copyright Press Association 2012