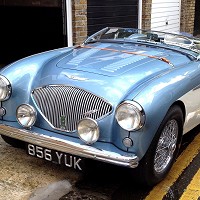 A £100,000 classic convertible stolen from a North London garage is unsellable, according to its rightful owner.
Pascal Maeter, a City banker, is appealing to the thieves to return his blue and white 1955 Austin Healey - on which he spent 18 months restoring.
His wife bought him it for his 50th birthday and he had just got it road worthy when it was taken.
The car was taken on Christmas Eve after thieves broke into his garage in Chelsea.
The first owner of the car was a US soldier stationed in Germany, who sold it when he returned to his home country. The next owner kept the car in his living room so it was hardly used for 50 years until Mr Maeter's wife bought it in 2013.
The car was in a poor condition but Mr Maeter restored it and he even went as far as finding the machine that made the model's cup-holders in Canada and had one made for his car.
The work to restore the car took so long that he only started driving it at the end of last year.
He said the car is worth much more than £100,000 to him as it was a gift and he put in so much time and effort to bring it back to its former glory.
Copyright Press Association 2015