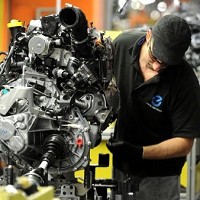 Tens of thousands of car sector jobs will return to Britain before the end of 2016, a new report is predicting.
The Lloyds Bank Fuelling Growth study polled Welsh and England vehicle supply chain manufacturers.
It calculated that the sector will generate around 50,000 fresh posts, with 70% of those questioned saying they plan to bring some work opportunities back home in that time. Reasons given were time and cost reductions, a wish to back local communities and a better home economic climate.
More than three in four (76%) vehicle-makers hope to expand by a maximum of a quarter by the end of 2016, the study found.
With a typical 18% growth forecast, each manufacturer expects to generate an average 27 new posts - the equivalent of almost 50,000 jobs.
Lloyds Banking Group's David Atkinson said that Britain is still among the world's leading car-making players, attracting substantial internal investment.
He said the vehicle sector is already the British economy's crowning glory and this is likely to continue.
Nearly half of the car-makers (45%) polled claimed they have already brought a typical 20% of overseas production back to the country.
Copyright Press Association 2014