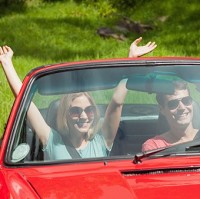 Many Britons will hit the road this Bank Holiday weekend as the country prepares for some pleasant spring weather.
Forecasters are predicting warm sunshine in central and southern parts of the country. Weather in the north, on the other hand, is expected to be slightly more temperamental.
RAC spokesman Simon Williams said: "If you are planning to make the most of the long weekend, the best advice is to spend a little time before setting out making sure your vehicle is in good shape for your journey by checking the oil, coolant, windscreen wash, tyre pressures and tread.
"It's also a good idea to check the level of RAC breakdown cover you have as roadside only entitles you to a fix at the side of road and a 10-mile tow whereas recovery enables your vehicle to be taken to a UK mainland destination of your choice if it can't be fixed at the roadside. Paying for recovery when you really need it can be expensive so it's best to add it your policy beforehand so you are covered."
Saturday should have the most of the sunshine, with temperatures set to reach the mid-teens in some parts of West and South West England. However, the mercury is only expected to rise to the low teens in the East and North East.
Cloud is predicted to spread in an easterly direction in the north, while there could be some rain in Northern Ireland and the west of Scotland.
Another reasonable day is expected on Sunday but it will be cloudier in the north and there will be rain in some parts, according to the Met Office.
Sunday's best weather will be in the southern and South East regions where conditions will be sunnier and brighter.
A bright, fine day is expected for all areas of England on Bank Holiday Monday, but forecasts suggest some cloud and rain in Scotland and Northern Ireland.
Copyright Press Association 2014