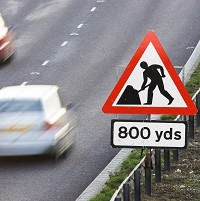 The Highways Agency is preparing for a busy bank holiday weekend and has suspended most of its roadworks over the four-day period.
Work on 151 miles of roads in England will stop from 6am on Friday to midnight on bank holiday Monday to cut congestion problems during the getaway period.
The agency will complete 328 miles of works by Friday's deadline but restrictions will remain in 25 places, including the M1 near Leicester, the M5 near Bristol and the M25 in Hertfordshire.
Traffic management director Simon Sheldon-Wilson confirms that 98% of the motorways and major roads the Highways Agency is responsible for will be free of roadworks this bank holiday weekend and motorists can use more lanes and not be held up by as many speed restrictions.
He said traffic officers would be working to clear any problems that do arise from accidents and breakdowns as quickly as possible to keep Britain moving, but he advised drivers to make sure they check the weather and travel conditions before they set off on long trips.
Friday evening and Monday afternoon are expected to be the busiest periods on major routes as drivers go away and come back from short breaks.
Copyright Press Association 2013