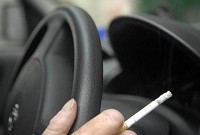 Banning smoking in cars "for the sake of the children" is the latest target of Ash, the Action on Smoking and Health charity.
Boss Deborah Arnott claims that just one cigarette in a car, "even with the window open, creates a greater concentration of second-hand smoke than a whole evening's smoking in a pub or a bar".
But says Simon Clark, director of the smokers' lobby group Forest: "Adults should err on the side of caution when young children are in the car, but a ban is far too heavy-handed. It's unnecessarily intrusive. You can't legislate for every aspect of people's behaviour."
The row follows Canadian research claiming that smoking in cars "constitutes a potentially serious health hazard to children" due to the prolonged exposure and the small size of their bodies.
Parts of Canada, the US and South Africa already ban smoking in cars carrying children, while the UK only bans lighting up in commercial vehicles.
Copyright © Press Association 2009