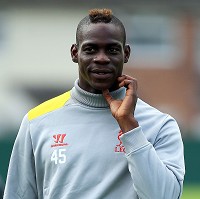 Footballer Mario Balotelli is once again the centre of controversy - both on and off pitch.
The Liverpool striker allegedly threatened a woman for taking photographs of his Ferrari outside his mother's home in Manchester on Thursday.
Police are currently investigating the claims and plan to speak to all concerned parties, including the 24-year-old Italian, in due course.
It has not been a good week for Balotelli. He angered his manager Brendan Rodgers on Wednesday when he swapped shirts with Real Madrid defender Pepe at half-time in their 3-0 defeat to the Spanish outfit at Anfield.
Fans also voiced their irritation at his actions. He was replaced in the second half, reportedly for tactical reasons, while former Liverpool captain Graeme Souness believes Balotelli needs to address his attitude if he wants to remain at the club.
Greater Manchester Police say the woman called them at 3.05pm to report the footballer had approached her in "a threatening way" after he noticed her taking the photographs shortly after he parked his car in Pewsey Road, Wythenshawe.
Copyright Press Association 2014