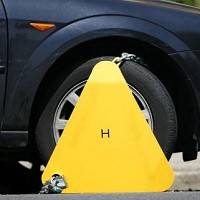 Bailiffs clamped the car of a disabled driver on his own drive after he repeatedly failed to pay a parking fine.
Brian Chandler, of Carmarthen Road, Swansea, south Wales, received the ticket for parking in a Swansea city centre loading bay last December, while under the impression that his blue badge would entitle him to park there. Mr Chandler said he wrote to Swansea Council to explain but received no reply, however the council say he failed to answer five letters.
The council then passed the matter on to the local County Court, who instructed bailiffs to clamp his vehicle. Mr Chandler, a diabetic who suffers from Ankylosing spondylitis, a conditions which affects his spine and bones and makes walking difficult, now says he is unable to afford the £320 release fee to unclamp his vehicle.
"Basically, my car is my lifeline and if I cannot use it I am trapped in my home," said Mr Chandler.
A spokesman for Swansea Council said: "Swansea city centre has scores of disabled parking spaces available for blue badge holders and around 20 of them are in St Mary's Square alone. However, Mr Chandler chose to park in a loading bay in the square.
Copyright © Press Association 2009