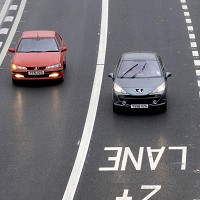 Bad wind is among the anti-social driving habits that are stalling the British car-sharing revolution, a new poll suggests.
Dangerous motoring and conflicting music choices are other major reasons why people do not wish to commute together, according to the BBC's survey of 2,000 motorists.
The study of commuting habits has been published to coincide with the DVD launch of Peter Kay's Car Share sitcom.
It found that incompatible habits are the main obstacle to people wanting to share vehicles on the way to and from work.
Topping this list is bad driving, with over half of respondents (51%) naming this as their principal objection.
These findings come after the Car Club Coalition announced its goal of having one million car-sharers in London by the 2020s.
Earlier this year the Policy Exchange think-tank called for car sharers to be offered tax breaks , while elsewhere campaigners have said commuting with colleagues can benefit the environment and reduce congestion.
The new poll found that over a quarter of workers (28%) have already tried car sharing, with 18% saying they car share on a daily basis.
Peter Kay's Car Share, which was first screened in April, traces the adventures of car-sharing supermarket colleagues John Redmond (Kay) and Kayleigh Kitson (Sian Gibson).
Kay said: "The idea of two people car sharing to work each day really appealed to me, as it highlights the comedy in the minutiae of the daily trek and allows the spiralling conversations of life to unwind in all of their glory."
Copyright Press Association 2015. Motoring News articles do not reflect the RAC's views unless clearly stated.