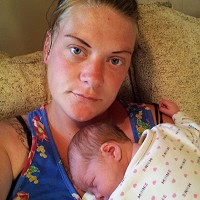 A baby girl was born at the side of a motorway after her grandfather was involved in a dramatic 'car chase' with the police.
Lola Mia Rose was delivered by her grandfather, Colin Ellmore, after officers pulled him over on the M275 in Portsmouth. He had reached speeds of 100mph as he rushed to take his daughter, Tiffany, to hospital.
Tiffany, 26, who has three other children, said she is "very proud" of her father, explaining how the birth happened very quickly and describing the experience as "quite scary".
She was in the car with her mum and dad, Colin and Elaine, her partner Steven Read and their seven-year-old son Ralphy, en route to the Queen Alexandra Hospital in Cosham, when the vehicle was surrounded by police officers in unmarked cars.
Following the birth, Lola and Tiffany were transferred by ambulance to the hospital. Lola weighed 6lb 4oz and her mother says she is doing well.
The police said no action would be taken over the incident.
Copyright Press Association 2014