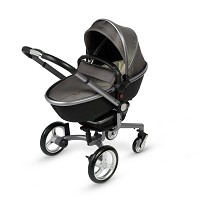 Luxury car manufacturer Aston Martin has helped design what it says is "the most exclusive pram in the world".
The £2,000 pram has been developed by the car-maker in partnership with Silver Cross, which first began making carriages for babies in 1877.
The two British companies claim the Aston Martin edition of the Silver Cross Surf is "designed to perfection with every detail considered".
The pram features leather which is an exact match to that used in the cars as well as aluminium alloy wheels based on the Aston Martin One-77, which retails for £1.2 million.
The air-ride suspension is said to guarantee a smooth ride on all terrains while a multi-position handlebar ensures comfortable pushing for everyone.
Silver Cross said it will only manufacture 800 prams. Each will come with its own certificate of authenticity and an engraved brushed chrome plaque to confirm that it is one of a limited edition.
Silver Cross said: "A complete travel system with a fully reclining seat, forward and rear facing pushchair settings and a carry cot for use from birth, this really is a must have for the most fast-paced lifestyle and is quite simply the most exclusive pram in the world.
"The Silver Cross Surf - Aston Martin Edition is the ultimate in comfort for your baby and in style for the owner."
Thankfully, new owners of the Silver Cross Surf won't have to worry about Aston Martin-sizedinsurance costs for the pram.
Copyright Press Association 2013