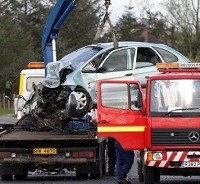 Motorists hit hard by the recession may be allowing their insurance to lapse as a way of saving money, the Motor Insurers' Bureau (MIB) has warned.
In research commissioned to mark the launch of its 'Stay Insured' campaign, the MIB found that 900,000 people under the age of 30 were currently driving without accident cover.
Some 600,000 of this group were found to be members of a "squeezed generation" - 21-to-29-year-olds who were finding it difficult to juggle the cost of house bills, children and elderly relatives and who, as a result, were said to be more likely to delay renewing their car insurance.
While 15% of uninsured drivers were found to fall into the 40-49 age range, the typical such motorist was found to be a male between the ages of 17 and 29.
Campaign ambassador Natalie Pinkham, said: "While it might be tempting to save a few pounds by delaying renewal for a few weeks, the consequences for doing so are severe. Last year, 232,000 convictions were successfully secured against uninsured drivers - so you will get caught."
Copyright © Press Association 2009