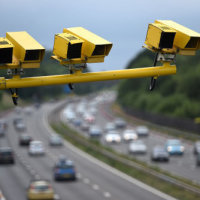 Motorists are being monitored by average speed cameras on 50 stretches of road throughout the UK, according to new research carried out for the RAC Foundation.
The charity says that while the figures show the cameras are becoming a more common sight on Britain's roads, further research is needed to assess how effective they are in cutting casualty rates.
The study, carried out by Road Safety Analysis, shows that a dozen new permanent systems were installed last year, meaning that over 250 miles of road are now covered by the cameras.
The RAC Foundation says while many drivers see fixed cameras as being "more about raising revenue for the Treasury than saving lives", it believes ones recording average speed along a stretch of road are more likely to be viewed favourably.
Its director Steve Gooding says while compliance on stretches of road covered by average speed cameras appears to be high, further research is required to establish whether their installation has helped reduce accident rates.
The length of road covered by average speed cameras range from a quarter-mile stretch on Tower Bridge in London to 99 miles of the A9 between Inverness and Dunblane in Scotland.
The research shows that the cost of average speed camera schemes has dropped to £100,000 per mile from some £1.5 million a mile in 2000.
Average speed cameras are often used to slow traffic down while roadworks are being carried out. However, cameras used on that basis have not been included in the research.
Copyright Press Association 2016. Motoring News articles do not reflect the RAC's views unless clearly stated.