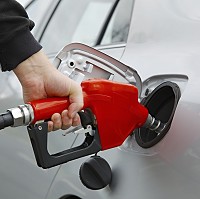 Motorists enjoyed a drop in the average price of petrol in December, according to the latest figures from the RAC.
Data from RAC Fuel Watch shows that a litre of petrol fell by more than 4p from 107.55p at the start of the month to 102.89p at the end of it.
This is the lowest December price since the same month in 2009 and meant a tank of petrol cost £5.35 less than at the end of 2014.
It was the sixth consecutive month of reductions to the cost of filling up a family-sized, 55-litre car, with a saving of £2.02 a tank.
Last month, many retailers - such as Morrisons, Tesco and Sainsbury's - were also offering petrol at below £1 a litre at forecourts across the UK.
And the average price of diesel decreased by 3p in December from 109.86p to 106.18p, leading to savings of £2.56 per tank.
The reductions were driven by the falling price of oil, which dropped by 17% from $43.26 to $35.75.
Simon Williams, RAC Fuel Watch spokesman, welcomed the news, though added that supermarkets had failed to pass on savings made from the reduced wholesale price of diesel.
Mr Williams said: "December was an excellent month for petrol car drivers with all four major supermarkets cutting the price of petrol to under £1 a litre on 11 December shortly after the RAC predicted it would happen.
"Unfortunately, despite the wholesale price of diesel being on average 2p a litre cheaper than that of petrol since 8 December, we didn't see the pump price fall to the same level until a few days ago.
"It looks very much as though the supermarkets will have attracted extra customers into their stores before Christmas with the headline-grabbing price of 99.9p a litre for petrol but have cleverly made up for any lost profit by taking a bigger margin on diesel sales by not passing on the savings in wholesale price to motorists on the forecourt.
"Retailers have established a pretty good track record of passing on wholesale cost-savings at the pump over the period since the price of oil fell from $115 a barrel in June 2014.
"But not cutting the price of diesel when there was an opportunity to do so before Christmas has undermined that. While we still expect fuel prices to stay low for some time, it will be interesting to see how quickly pump prices go up again when the cost of oil rises."
Copyright Press Association 2016. Motoring News articles do not reflect the RAC's views unless clearly stated.