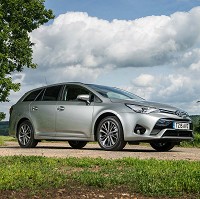 Drivers will soon be able to get behind the wheel of Toyota's all-new Avensis - celebrating a British manufacturing landmark in the process.
Production of the newcomer is underway at the Burnaston plant in Derbyshire, where it joins the latest Auris.
It is the first time that a Toyota division outside Japan has been tasked with planning, building and delivering two new models at the same time, making the achievement a unique success for Toyota GB .
As production of an outgoing model slows down, the build of the new one normally takes over on the line to compensate in its absence. This means the number of cars leaving the plant is fairly consistent.
But in this case, both models are sharing a production line from start to finish.
Toyota describes it as an "unprecedented challenge" but is confident that it will meet global demand for the new cars.
The plant in Burnaston has now overseen nine new model launches since it was built in 1992, along with a number of minor change programmes.
It had to accelerate from zero to 800 cars per day in just 10 days under the new system.
Car buyers will have the choice of either saloon or 'Tourer' estate body styles for the new Avensis - not to mention petrol and diesel engines - making it ideal for business users and families alike.
It has undergone a comprehensive makeover inside and outside. New LED headlights front and back mean it will be hard to miss at night, plus its chassis has been reworked to improve ride quality and handling.
The car has also been stretched significantly to give passengers more room and provide extra boot space.
First deliveries of the much-anticipated Avensis are expected to be taken this month.
Copyright Press Association 2015
https://www.toyota.co.uk/index.json (Toyota GB)