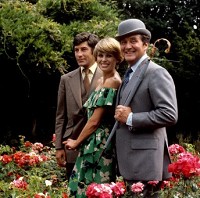 An iconic British car driven by an equally iconic British TV character has gone under the hammer for £62,000.
The Jaguar XJ12-C was driven by John Steed in The New Avengers, which ran from 1976 to 1977.
An enthusiast paid five times the model's original estimate and now the private collector intends to return the machine to its past glory.
Patrick McNee's character in the show drove the 1976 Jaguar XJ alongside fellow adventurers Purdey (Joanna Lumley) and Gambit (Gareth Hunt).
Broadspeed Engineering originally adapted the classic for the show, introducing bigger tyres and wheels and wider wheel arches.
Steed's Jag has been unused and stored away for the last two decades, having been driven by numerous owners after the programme finished.
The car was vandalised during its time in storage. But it was unearthed earlier in 2015 and sold at a London auction to the highest bidder with its 40-year-old 5.3-litre V12 engine still intact.
Experts believe that the Jaguar will be worth even more once it has been restored to complete working order.
H&H Classics' manager for business development, Nick Delaney, calls the Jag's reappearance in the public eye once more after its hibernation "fantastic".
Delaney describes the £62,000 final price as "truly remarkable", since it attracted £50,000 more than the original valuation. He says such a sum underlines both the appeal of both car and The New Avengers.
The UK fantasy secret agent show ran on British TV for 26 episodes across two series in the mid-1970s. It was the sequel to The Avengers, which ran from 1961 to 1969 and featured stars such as Honor Blackman, Diana Rigg and Linda Thorson as Steed's partners.
Copyright Press Association 2015