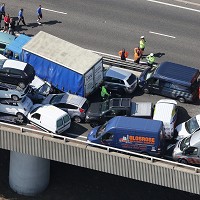 Automatic breaking systems could help to prevent pile-ups, such as the one last week on the Isle of Sheppey, according to experts at Thatcham Research.
Engineers at the automotive research facility have been developing Autonomous Emergency Breaking (AEB) systems for the past three years on behalf of insurance companies.
The systems have been developed to help spot potential hazards early, reducing the impact of high-speed crashes and stopping low-speed collisions altogether.
"We know all too well the effects of such collisions, and ultimately, it is the aim of all those in the insurance and vehicle design sectors to make death or injury on the roads a thing of the past," Peter Shaw, chief executive of Thatcham Research, said.
"In recent years great strides have been made by vehicle manufacturers in making stronger, safer cars."
The European car safety body Euro NCAP has said that it will include AEB testing as part of its overall safety rating from 2014.
Thatcham points out that drivers with AEB systems already fitted in their vehicle may be able to save money on their car insurance , compared to drivers who don't have the technology installed.
Copyright Press Association 2013