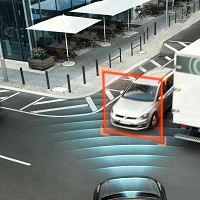 The new Volvo XC90 will include auto-brake technology to help prevent collisions.
In a first of its kind, the technology will be able to slow the vehicle if its anticipates that it is on course for a crash. So if the driver pulls out in front of an oncoming car, the XC90 can reduce the risk of an accident by applying the brakes automatically.
As well as the auto-brake feature, Volvo is introducing another world first to the XC90 - self-tightening seatbelts if the car runs off the road.
Working in conjunction with specially designed seat cushions, it means motorists enjoy a reduced risk of dangerous spinal injuries.
Professor Lotta Jakobsson, senior technical specialist safety at Volvo Cars safety centre, says the new technologies "target substantial real-life traffic problems".
She says the new devices help the carmaker move closer to reaching its goal of having no reported deaths or serious injuries in a new Volvo by 2020.
Dr Peter Mertens, senior vice president of research and development at Volvo Car Group, describes the XC90 as"one of the safest cars ever made".
Prof Jakobsson says its commitment to safety is about discovering how and why accidents and injuries happen and then developing the technology to prevent them.
Copyright Press Association 2014