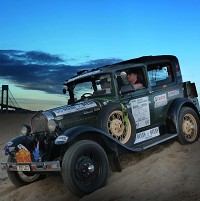 An Australian man is attempting a new world record for the time taken to drive a pre-war car between the Atlantic and Pacific Oceans.
Adventurer Rod Wade, will attempt drive a 1930 Ford Model A almost 3,000 miles from Staten Island in New York to Venice Beach in California in less than 60 hours.
Wade, along with co-driver Michael Flanders will leave New York at around 00:01am on Friday 22 November and aims to arrive in California on the morning of Sunday 24 November.
The pair will be followed by a 1988 Plymouth ex-police car, which will act as their support and media vehicle. The car will carry spare parts as well as a mechanic, garage owner, photographer and the team's media manager.
Before starting the challenge Wade will fill up a bottle with water from the Atlantic Ocean that he will pour into the Pacific Ocean to stop the clock at the other end.
Wade's previous attempt to set the world record ended in disappointment 38 hours into the journey, when the crankshaft in the Ford broke just after Amarillo in Texas.
"We were devastated when the previous attempt failed but it did two things - taught us a few lessons that have helped us plan the second attempt and made us more determined than ever to get the record set!" Wade said.
Wade, whose wife and daughter suffer from kidney disease, hopes setting the record will help to raise awareness and funds for kidney disease sufferers in the US through the American Kidney Fund.
He has already raised thousands for Kidney Health Australia.
Copyright Press Association 2013