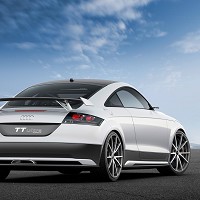 A lighter but more powerful TT concept has been unveiled by Audi.
Around 300kg less heavy than a more typical model, the car weighs 1,111kg and its 306bhp shared between the four wheels gets it to 62mph in 4.2 seconds, the auto maker said.
The "ultra quattro concept" car can also reach 173mph.
The one-off design sees a car that can accelerate better than a lot of so-called supercars and is said to have the ability, because of its light weight, to beat most of the best cars on a tight course.
Protecting one of these beasts would suggest a specialised car insurance policy.
It has a four-cylinder turbocharged engine which is 25kg lighter thanks to a modified crank case and shaft, and has improved flywheel and sump, as well as upgraded bolts and ancillary units.
Audi says it wanted to focus more on pleasing the driver - the car also includes six-speed manual transmission to help get to it its "outrageous" top speed.
The weight loss is also derived from other improvements.
Bucket seats from the R8 GT take off 22kg, a suspension system built using polymer technology reinforced with fibreglass loses more kilos and the body shell itself is around 100kg lighter.
Audi stressed the unlikeliness of the model ever being produced commercially, because of the expense of the material and building techniques used.
Copyright © Press Association 2013