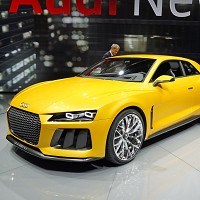 Audi is paying tribute to its famous 1980s Sport Quattro in revealing its new 690bhp Quattro Concept at the Frankfurt Motor Show this month.
The original Sport Quattro was produced to conquer the world of rallying and fans could not wait to get their hands on one, arrangecar insurance and emulate their heroes.
The latest concept offers a hint towards the German car giant's next new supercar to improve on the R8. Looking squat and stocky with its 4602mm by 1964mm dimensions, the light carbon fibre body of the new Quattro includes blistered wheel arches similar to those seen on the very first version.
The headlights feature Audi's Matrix system of LEDs and reflectors, while its track power comes from the RS6's 552bhp 4.0-litre V8 petrol engine.
In combination with a 138bhp electric motor, the engine makes the Quattro a hybrid that can reach a top speed of 189mph and go from standstill to 62mph in just 3.9 seconds.
Copyright Press Association 2013