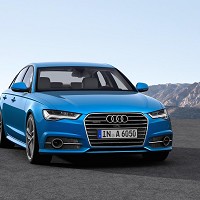 Audi has revealed details of its revised A6 range, with its first customer deliveries expected before the close of the year.
The German car giant is putting the focus on styling, as well as equipment, engine performance and efficiency.
The new Audi is expected to start from £32,000, although revised prices have yet to be revealed for the A6 range.
Among the model's enhancements is a new "infotainment" system and transmissions, as well as upgraded lighting and a series of style upgrades. The A6 Saloon and Avant will also have "ultra" models, which can offer 64mpg, and a CO2 level of just 114g/km, for a greener journey.
The SE models will also be able to boast xenon headlights, with enhanced LED headlights on offer for other cars on the S line.
The Audi's new Matrix LED lights are optional for A6 and S6 models, and will come as standard for the RS S Avant performance vehicle.
Copyright Press Association 2014