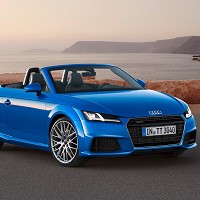 Audi has allowed consumers a first glimpse at the beautiful lines of its new TT roadster for 2015, not to mention its sporty sibling, the 306bhp TTS.
The two-litre, turbocharged, petrol engine on the standard car knocks out a mean 226bhp, coming in front or four wheel drive, while the diesel powered TDI Ultra model puts 181bhp through the front wheels, managing 65 miles-per-gallon at the same time.
Owners of the TDI ultra model will enjoy the joys of road tax band C, as the highly efficient diesel engine was CO2 emissions rated at only 114g/km
The German originators of vorsprung durch technik are particularly proud of the novel Audi virtual cockpit - a 12.3-inch digital display that can be tailored to show anything from satellite-navigation maps to live car information or, more traditionally, the speedometer and engine rev counter.
Now for the seriously exciting news, the Audi TTS Roadster will arrive at the same time as the TT sharing most of its specs with a larger engine, larger wheels and more equipment as standard.
The 306bhp quattro engine takes the top-end roadster from 0 to 62 mph in just 4.9 seconds.
Fans of the German staple have a little time to wait though as the TT and TTS aren't due over here until March 2015.
Copyright Press Association 2014