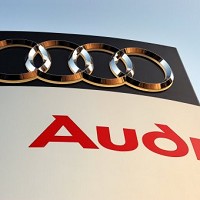 Audi is unveiling its new hydrogen car prototype next month.
The Q6 h-tron, a fuel cell-powered adaptation of the electric Audi quattro e-tron concept, will be displayed at the Detroit Auto Show (January 11-24).
The car manufacturer is likely to use the e-tron's MLB platform, according to the German motoring press.
Hydrogen-based fuel cells will replace the e-tron concept's batteries, which designers positioned low down in a bid to give it the optimum centre of gravity.
Audi wants to join companies such as Toyota as pioneers of the hydrogen car revolution. The Japanese manufacturer released free patents for its hydrogen-based fuel cell driving technology earlier this year.
It has urged close ties between car makers as the first such cars start coming on to the market, calling the next five years key to the industry's progression.
The h-tron is expected to be very similar in style to its Q6 e-tron stablemate, especially on the inside.
Tesla's Model X will be a competitor to the Audi Q6 e-tron, which is expected to sell for about £60,000 when it hits showrooms in 2018. The e-tron has a total 429bhp across a trio of electric motors, boasting zero-emissions for 311 miles.
Copyright Press Association 2015. Motoring News articles do not reflect the RAC's views unless clearly stated.