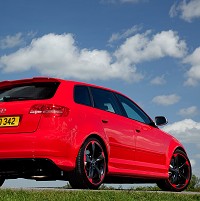 Audi has announced that it is manufacturing a special run of 250 right-hand-drive five-door Audi RS3 Sportbacks to meet overwhelming consumer demand.
The new batch of Sportbacks will use the same turbocharged, five-cylinder engine as the three-door RS3s, which operate at a galloping 336 bhp.
The Sportback flies out of the blocks, doing 0-62mph in 4.6 seconds, with a top speed of 155mph, and will come installed with the twin-clutch, seven speed DSG gearbox.
The vermicular graphite engine block and carbon-fibre reinforced polymer front wings help to keep the RS3's weight down to a lean 1,575kg.
The cars will retail at an identical cost to the three-door RS3, with prices starting at £39,930 on the road, although there is an extensive menu of optional extras and customisation available for customers to choose from.
Five colours are offered as standard, although buyers are free to get creative with their colours choices, with a large palette of colours available upon request.
The RS3 comes with a free three year, 60,000 mile warranty, althoughcar insurance is still required.
Copyright Press Association 2012