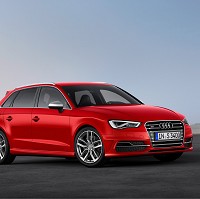 Audi has announced the launch of the new high-performance S3 at next month's Geneva Motor Show.
The re-launched S3 comes with a new 2.0-litre TFSI petrol engine that produces 296bhp, with a limited top speed of 155mph and a 0-62mph time of 5.4 seconds.
However, features such as the integrated exhaust manifold and a direct and indirect fuel injection system are retained from the outgoing model.
The S3 is set apart from the standard A3 by a chrome-edged grill, unique bumpers, side trim and bigger alloy wheels, plus a wide range of additional add-ons that are also available.
Audi has not announced a price for the S3, but said that it will be no higher than the current generation on sale.
Pre-orders for the new S3 will start in April, with the car available on the road in September.
All current models of the Audi S3 are in insurance group 36, with the new version expected to be ranked in a similar category.
Copyright Press Association 2013