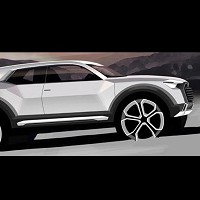 Audi will launch a new, small SUV in 2016, the German car manufacturer has announced.
The new model, called the Q1, will slot in below the existing Q3 and it is hoped the latest design will help the company continue to grow as it looks to tap into new markets across several countries.
Audi hopes to have expanded its model range to over 60 different variants by 2020, up from the 49 designs currently available. In doing so the manufacturer hopes to reach car sales of over two million a year.
The new Q1 will be built at Audi's main factory in Ingolstadt, Germany where the A3 and A3 Sportback, as well as the entire range of A4 and A5 models are built.
Audi has yet to reveal details of the Q1, however early estimations suggest that both petrol and diesel versions will be available while Audi's trademark Quattro all-wheel drive system will also make an appearance.
Copyright Press Association 2013