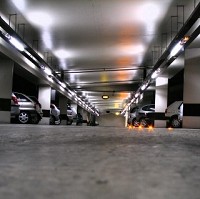 German automaker Audi is currently trialling a wireless payment system that allows drivers to enter car parks without having to lift a finger.
If successful, the new technology could mean that in future it won't be necessary to go through the hassle of grabbing a ticket on entry to a car park, keeping that ticket safe until departure and then fumbling for loose change or cards for parking payment.
'Audi connect wireless payment' creates a communication link between cars and car parks, enabling barriers to be raised and charges to be paid automatically.
It is hoped the technology will become a useful addition to the Audi connect option, which already features internet-based services such as Google Earth, Google Street View, local fuel pricing, news and weather information.
The pilot is now underway at the company's headquarters in Ingolstadt, involving up to 13,000 connected test cars.
Individual RFID (Radio Frequency Identification) transmitters will be mounted on the inside of the windscreen to enable each car to communicate with the parking facilities.
Copyright Press Association 2013