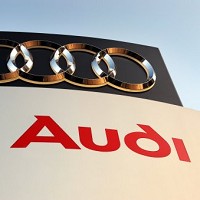 Audi has successfully developed a new carbon dioxide-based synthetic diesel.
The German car manufacturer claims the fuel will have almost no effect on global warming. This is because CO2 and water are the sole raw materials required in its manufacturing process.
More than 150,000 Britons buying a car last year decided upon new Audis, but they may not all know that Audi is also instrumental in developing green fuels to put in their motors.
In the last few days Audi has began making the inaugural supplies of its new, green high-quality CO2-neutral diesel. This follows only four months' work at its Dresden-Reick research plant shared between Audi and its facility operator and scheme partner sunfire, the energy-tech company.
Work only started 21 months ago on the factory, which now plans to generate more than 3,000 litres of the green diesel in the months ahead.
The project utilises green power in its production of the liquid fuel. Audi e-diesel gets its CO2 supply from a biogas factory. Part of the carbon dioxide required is drawn out of ambient air through so-called "direct air capturing".
This is a process created by Zurich-based Climeworks, another of Audi's partners.
The German car manufacturer's Reiner Mangold said that Audi's e-diesel and e-fuels are key to complementing electric mobility.
Mr Mangold, who looks after the firm's sustainable product generation, says Audi e-diesel is a further CO2-based fuel which will facilitate "long-distance mobility" while barely affecting climate change.
He said that Audi e-diesel's CO2 raw materials are an opportunity for worldwide utilisation - not just for Germany's car sector.
The company has been diligent in trying to develop CO2-neutral fuels for the past six years. Its e-gas factory in Werlte already uses a comparable method to produce synthetic methane - or Audi e-gas.
This fuels its A3 Sportback g-tron model, which can be used across nations where a compatible fuelling network exists.
In addition, Audi, in partnership with France-based Global Bioenergies, is carrying out joint tests into Audi's e-gasoline synthetic manufacture.
The German business is also partnering with Joule, the US firm which employs microorganisms to create synthetic fuels such as Audi e-ethanol and Audi e-diesel.
Copyright Press Association 2015