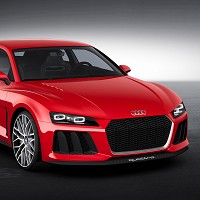 Audi is to launch new laser headlights that promise to leave previous installations "in the dark".
The car maker's new super-powerful diodes may only be a few thousandths of a millimetre in diameter but boast a beam of up to 500 metres, it is claimed.
Today's best LEDs - of which Audi already prides itself for its MatrixBeam LED system - reach around half of that, and the small but powerful laser headlights give out three times as much overall light.
The latest Sport Quattro concept will be the first model to display the new technology, with consumers able to see the performance for themselves at the Consumer Electronics Show (CES) in Las Vegas.
Professor Dr Ulrich Hackenberg, member of the board of Audi AG, technical development, said: "The new show car demonstrates technical 'Vorsprung' on many levels.
"On board this car we have e-tron technology with 700 PS of power and 113mpg fuel economy; laser headlights that leave all previous systems in the dark with its higher performance as well as new display and operating systems with cutting-edge electronic performance.
"We are showing the future of Audi here."
Copyright Press Association 2014