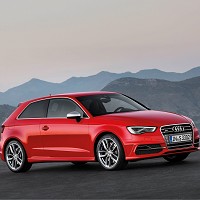 Audi insists that its new S3 will not only be 60kg lighter but also have as much as 296bhp and be capable of doing more than 40mpg.
The 2.0-litre turbocharged engine has direct fuel injection and, while the long-stroke unit has the same 1984cc capacity as its predecessor, the torque of 280lb.ft between 1,800 and 5,500rpm should set it apart.
Peak power is produced at 5,500rpm but the redline is set at 6,800rpm and the optional S tronic twin-clutch automatic reduces the 0-62mph time from 5.4 seconds to just 5.1 seconds.
The S tronic gearbox offers efficiency gains by using 'coasting', where the gearbox effectively moves into neutral when the driver lifts off the throttle until the accelerator is touched again.
A bigger turbocharger runs at a higher pressure than before, up to 1.2 bar for a faster response, and a six-speed manual gearbox and quattro four-wheel-drive will be provided as standard.
Because the indirect fuel injection system comes in at lower demands for lower CO2 and particulate emissions when the FSI system is reserved for start-up and high engine loads, 40.9mpg can be achieved on the combined cycle.
Copyright Press Association 2012