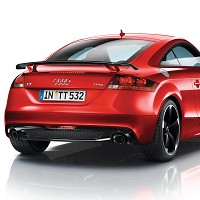 Audi has spruced up the sporting TT range with the announcement of a new option pack for the coupŽ and roadster models.
The Amplified Black pack, which is a £700 extra on the Black Edition ranges, comes in a range of four different metallic and pearlescent finishes, including the daring Samoa Orange.
Trimmed with a RS model black rear spoiler, black twin exhaust and a black diffuser insert the Amplified Black range has a fierce look to it, especially when fitted with black 19-inch rotor design alloy wheels.
All colours come with matching interior trim inlays at no extra cost, adding a personal twist to each model.
Available in both a petrol and diesel engines, the Amplified Black starts at £31,365 for a six-speed manual front-wheel drive model, stretching to £34,380 for the S-tronic Quattro version.
The 2.0-litre petrol engine churns out 208bhp, with a top speed of 152mph and an impressive 0-60 time of 6.1 seconds. All the Black Amplified models are classified ininsurance group 38.
Additional options to really spice up the range include front bucket seats, adjustable sport suspension and dark grey break callipers.
Copyright Press Association 2013